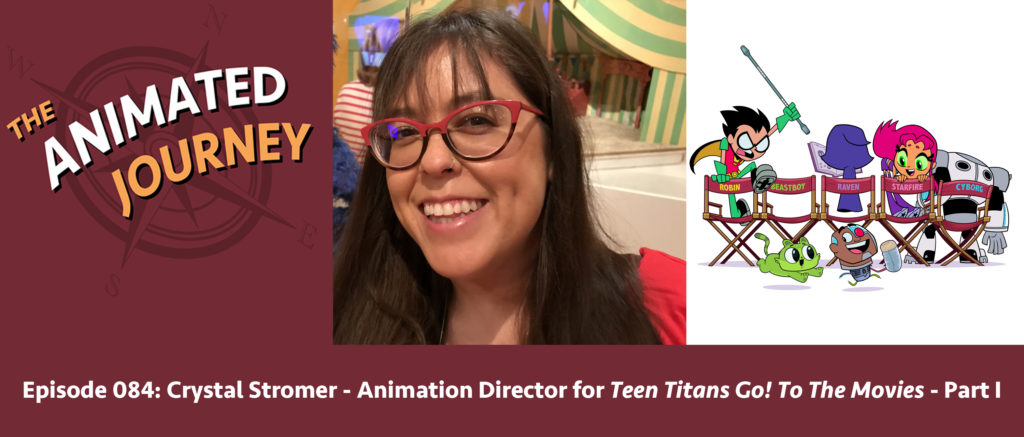 Animator Crystal Stromer returns to discuss working as an animation director for Teen Titans Go! To The Movies. Crystal discusses how she became an animation director on the film, working alongside the talented crew, some of her favorite jokes from the movie, watching the movie with test audiences, and more! Join us as we discuss one of this summer's funniest films.
Also in this episode:
We remember the illustrious Stan Lee
The class action lawsuit against Riot Games
Our reviews of The Grinch, Venom, The Chilling Adventures of Sabrina
and more!
Crystal Stromer's Websites
Vimeo
https://vimeo.com/user657390
Instagram
@crystalstromer
Crystal's first interview from Episode 049:
https://wp.me/p7gy1F-8X
Southern California Animation Events 
Gnomon School
GPU Rendering: An Introduction to Redshift for Production
Thurs. Nov. 15th,2018
7:30 pm
https://www.gnomon.edu/community/events/gpu-rendering-an-introduction-to-redshift-for-production
Gallery Nucleus
Marvel's Infinity War: The Art of the Movie Panel & Book Signing
Sat. Nov. 17th, 2018
2:00 pm
https://www.gallerynucleus.com/event/701
Loop de Loop 
Theme: Shoes
Deadline Sun. Nov. 25th, 2018 11:30 pm in your time zone
http://www.loopdeloop.org
LiveRead/LA
With Industry Insider – Chris DeFaria – CEO of DreamWorks Animation
Mon. Dec. 10, 2018
7:30 pm
http://www.livereadla.com/liveread-event
DesignerCon
Fri. Nov. 16th, 2018 – Sun. Nov. 18th, 2018
https://www.designercon.com
Lightbox Expo is now accepting exhibitor and artist table applications for 2019:
https://www.lightboxexpo.com/exhibit/
WonderCon is now accepting vendor applications for 2019:
Artist Alley Application
https://www.comic-con.org/wca/2019/artists-alley/exhibitors
Exhibitor Application
https://www.comic-con.org/wca/2019/exhibitors
Comic-Con International: San Diego is now accepting vendor applications for 2019:
Artist Alley Application
https://www.comic-con.org/cci/2019/artists-alley/exhibitors
Exhibitor Application
https://www.comic-con.org/cci/2019/exhibitors
The Podcast
Website
www.theanimatedjourney.com
Tumblr
www.theanimatedjourney.tumblr.com
Facebook
www.facebook.com/theanimatedjourney
Twitter
@animjourney
Instagram
@animjourney
The Host – Angela Entzminger
Website
www.sketchysoul.com
Tumblr
www.sketchysoul.tumblr.com
Instagram
@SketchySoul
The Host – Jeff Schuetze
Website
www.jefbot.carbonmade.com
Comic
www.jefbot.com
Tumblr
www.jefbot.tumblr.com
Twitter
@JefBot
Instagram
@Shootzee
SaveSave
SaveSave
SaveSave
SaveSave
SaveSave
Podcast: Play in new window | Download
Subscribe: Apple Podcasts | Google Podcasts | Email | RSS