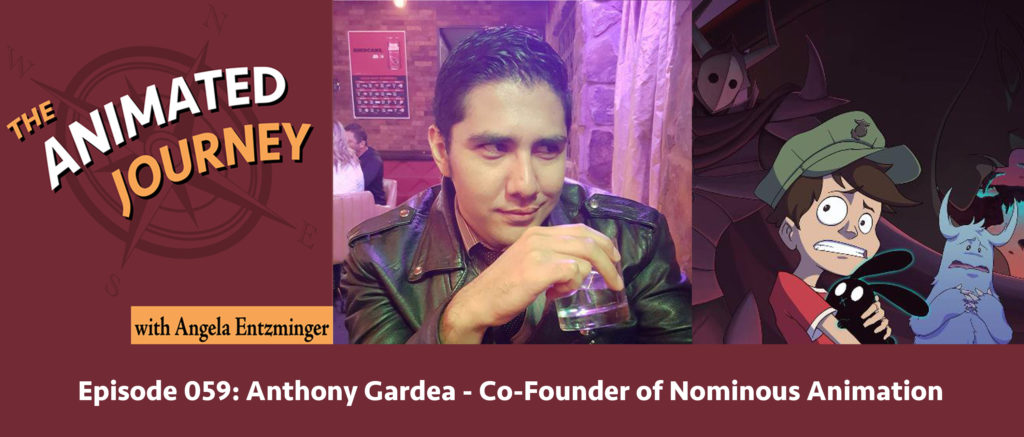 In today's episode independent animator Anthony Gardea shares how his love for storytelling and animation inspired him and his wife Becky Gill to create the independent production company Nominous Animation. Together with a team of animators, designers and voice artists they are now embarking on creating the animated film World Destroyer. In this interview Anthony discusses art school, freelance jobs, leaving LA, the highs and lows of your work going viral and being willing to adapt as you create your own stories. For anyone who has ever wanted to branch outside of the studio system and create their own films, this episode is for you!
Anthony Gardea's Websites
Website
https://www.nominousanimation.com
Facebook
www.facebook.com/NominousAnimation
Patreon
https://www.patreon.com/nominousanimation
Tumblr
www.nominousanimation.tumblr.com
Instagram
@NominousAnimation
Southern California Events 
Convention season is over but it's never too late to stay up to date! Check out these Southern California conventions for your opportunity to register and exhibit your art in 2018.
Creative Talent Network Expo
www.ctnanimationexpo.com
DesignerCon
www.designercon.com
Fan*Alley Expo
www.gzaexpo.com
The Podcast
Website
www.theanimatedjourney.com
Tumblr
www.theanimatedjourney.tumblr.com
Facebook
www.facebook.com/theanimatedjourney
Twitter
@animjourney
Instagram
@animjourney
The Host – Angela Entzminger
Check out my guest spot on Animation Station with Robbie and Tracy!
http://apple.co/1Th9CRV
Check out my two part interview on The Ink and Paint Girls Podcast!
http://bit.ly/2sJqw41
Website
www.sketchysoul.com
Tumblr
www.sketchysoul.tumblr.com
Twitter
@SketchySoul
Instagram
@SketchySoul
The Editor – Jeff Schuetze
Website
https://jefbot.carbonmade.com
Comic
http://jefbot.com
Twitter
@JefBot
Instagram
@Shootzee
SaveSave
SaveSave
SaveSave
Podcast: Play in new window | Download
Subscribe: Apple Podcasts | Google Podcasts | Email | RSS