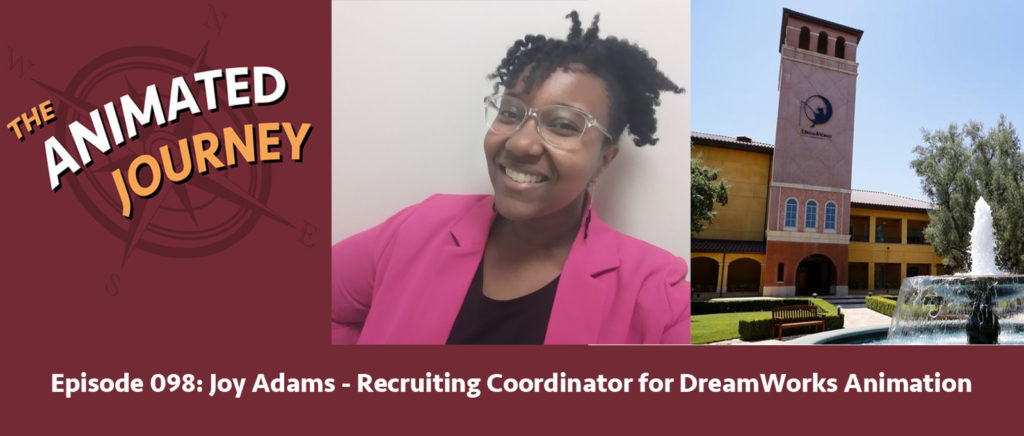 Episode 098 features recruiter extraordinaire Joy Adams! Special note: at the time of this recording Joy worked as a Recruiting Coordinator at DreamWorks Animation. She is now a Talent Acquisition Coordinator at Netflix.
In this interview Joy shares her journey from growing up and working on the East Coast to moving to the West Coast to participate in the NBC Page Program, working as a Receptionist and then an Executive Assistant at Nickelodeon, and making the jump to recruiting for DreamWorks. Hear how she did it and how to better prepare your portfolio for recruiters.
And make sure to submit your animation industry and podcast show questions for our 100th episode at contact@theanimatedjourney.com!
Joy Adams' Websites 
LinkedIn
The Podcast
Website
www.theanimatedjourney.com
Facebook
@theanimatedjourney
Instagram
@animjourney
Tumblr
@theanimatedjourney
Twitter
@animjourney
The Host – Angela Entzminger
Website
www.sketchysoul.com
Instagram
@SketchySoul
Tumblr
@sketchysoul
The Host – Jeff Schuetze
Website
www.jefbot.carbonmade.com
Comic
www.jefbot.com
Instagram
@Shootzee
Tumblr
@jefbot
Twitter
@JefBot
Podcast: Play in new window | Download
Subscribe: Apple Podcasts | Google Podcasts | Email | RSS