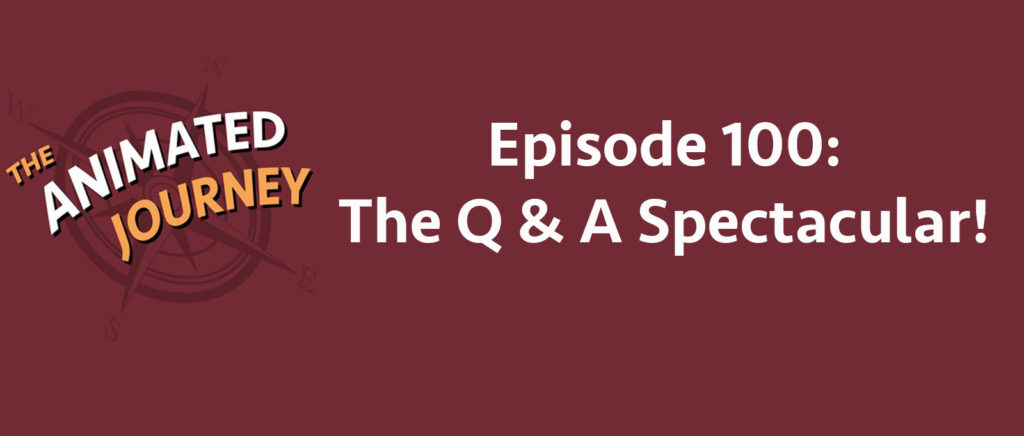 Hello dear listeners! We're happy and misty-eyed to present the final episode of The Animated Journey Podcast, Episode 100: The Q&A Spectacular! We answer your questions including how to choose an animation school, how the animation production pipeline works, the visa process, becoming a director, the future of the industry and more! We also reminisce about the podcast and our own animated pathways. But take heart! All of the episodes will remain available on iTunes, Stitcher, Google Play and Spotify for the foreseeable future.
And speaking of podcasts, we mention a few episodes during our listener questions that we know will be most helpful to you, our listeners:
The International Visa Process
Ep. 091: Your Animated Life Part 6 – The Visa Process with Nooree Kim and Yvonne Hsuan Ho
Ep. 061: Nic Gregory – Background Painter for Disney Publishing, Rough Draft Studios, Cartoon Network and More!
The Animation Production Pipeline
Ep. 088: Your Animated Life Part 3 – Marriage, Family and the Animation Production Pipeline with Cassie Soliday and Katya Bowser
Thank you for all of your support!
The Podcast
Website
www.theanimatedjourney.com
Facebook
@theanimatedjourney
Instagram
@animjourney
Tumblr
@theanimatedjourney
Twitter
@animjourney
The Host – Angela Entzminger
Website
www.sketchysoul.com
Instagram
@SketchySoul
Tumblr
@sketchysoul
The Host – Jeff Schuetze
Website
www.jefbot.carbonmade.com
Comic
www.jefbot.com
Instagram
@Shootzee
Tumblr
@jefbot
Twitter
@JefBot
Podcast: Play in new window | Download
Subscribe: Apple Podcasts | Google Podcasts | Email | RSS