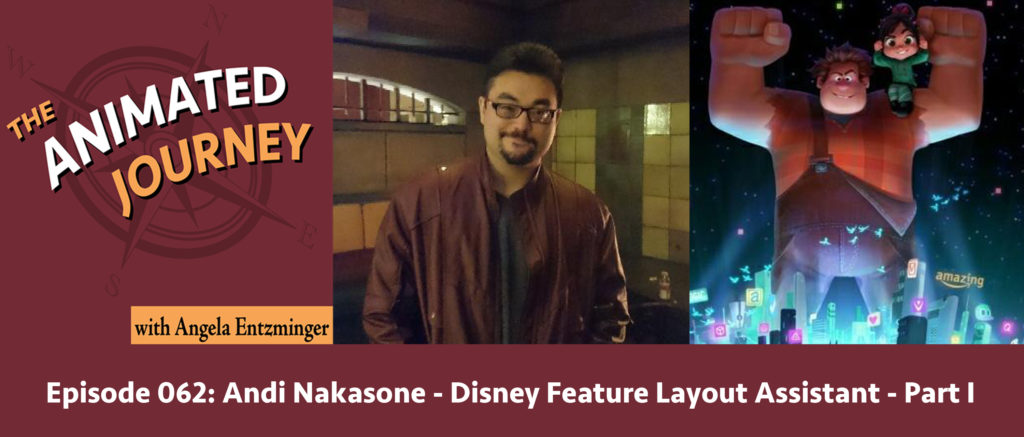 Welcome to the first episode of 2018 featuring the amazingly talented Andi Nakasone! Andi grew up in Okinawa, Japan and moved to the states to study…archeology. But he soon discovered that storytelling was his life's passion and began to pursue cinematography and editing at Baylor University. After interning in New York and learning more about 3D animation, he moved to San Francisco to pursue his new dream of working in the animation industry. His is an awesome story that you won't want to miss!
Andi Nakasone's Websites
Instagram
@andinakasone
Email
andi.nakasone@gmail.com
Southern California Animation Events
Convention season is over but it's never too late to stay up to date! Check out these Southern California conventions for your opportunity to register and exhibit your art in 2018.
Comic-Con International: San Diego
https://www.comic-con.org
Creative Talent Network Expo
www.ctnanimationexpo.com
DesignerCon
www.designercon.com
Fan*Alley Expo
www.gzaexpo.com
The Podcast
Website
www.theanimatedjourney.com
Tumblr
www.theanimatedjourney.tumblr.com
Facebook
www.facebook.com/theanimatedjourney
Twitter
@animjourney
Instagram
@animjourney
The Host – Angela Entzminger
Check out my comic for The Story Collider Podcast!
http://bit.ly/2ir8HTc
Check out my guest spot on Animation Station with Robbie and Tracy!
http://apple.co/1Th9CRV
Check out my two part interview on The Ink and Paint Girls Podcast!
http://bit.ly/2sJqw41
Website
www.sketchysoul.com
Tumblr
www.sketchysoul.tumblr.com
Twitter
@SketchySoul
Instagram
@SketchySoul
The Editor – Jeff Schuetze
Check out Jeff's interview on this podcast!
http://bit.ly/2BmrPK1
Website
https://jefbot.carbonmade.com
Comic
http://jefbot.com
Tumblr
http://jefbot.tumblr.com
Twitter
@JefBot
Instagram
@Shootzee
Podcast: Play in new window | Download
Subscribe: Apple Podcasts | Google Podcasts | Email | RSS