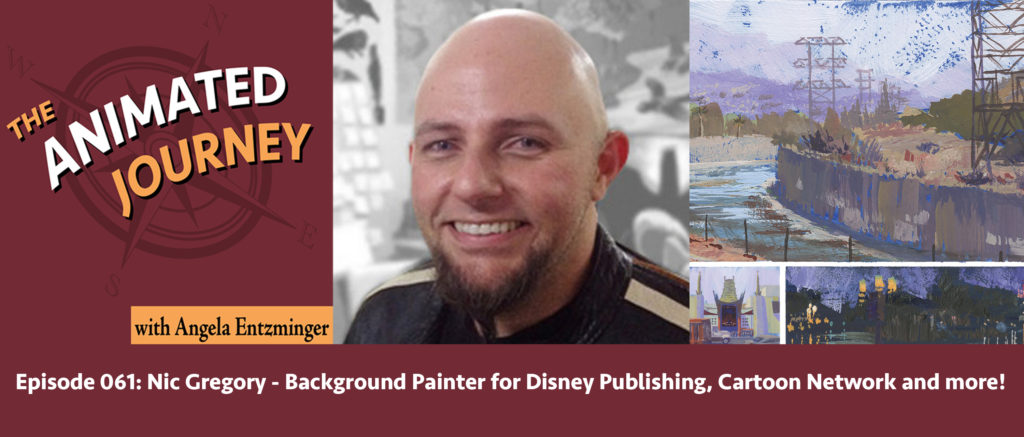 Background painter for Disney Publishing, Cartoon Network and Rough Draft Studios Nic Gregory joins us for episode 061 of The Animated Journey Podcast! In this last episode of 2017, Nic shares how his love for Fantasia and all things animation led him to venture from his native Australia to the United States in order for him to pursue a career in background painting and character design. For anyone who has ever wondered if they can make the leap from one career to another an ocean away, this episode for you!
Nic Gregory's Websites
Website
www.nicgregory.com
Facebook
nic.gregory.18
Instagram
@NicGregoryArt
Twitter
@Nic_XL
Southern California Events
Convention season is over but it's never too late to stay up to date! Check out these Southern California conventions for your opportunity to register and exhibit your art in 2018.
Comic-Con International: San Diego
https://www.comic-con.org
Creative Talent Network Expo
www.ctnanimationexpo.com
DesignerCon
www.designercon.com
Fan*Alley Expo
www.gzaexpo.com
The Podcast
Website
www.theanimatedjourney.com
Tumblr
www.theanimatedjourney.tumblr.com
Facebook
www.facebook.com/theanimatedjourney
Twitter
@animjourney
Instagram
@animjourney
The Host – Angela Entzminger
Check out my comic for The Story Collider Podcast!
http://bit.ly/2ir8HTc
Check out my guest spot on Animation Station with Robbie and Tracy!
http://apple.co/1Th9CRV
Check out my two part interview on The Ink and Paint Girls Podcast!
http://bit.ly/2sJqw41
Website
www.sketchysoul.com
Tumblr
www.sketchysoul.tumblr.com
Twitter
@SketchySoul
Instagram
@SketchySoul
The Editor – Jeff Schuetze
Check out Jeff's interview on this podcast!
http://bit.ly/2BmrPK1
Website
https://jefbot.carbonmade.com
Comic
http://jefbot.com
Tumblr
http://jefbot.tumblr.com
Twitter
@JefBot
Instagram
@Shootzee
SaveSave
SaveSave
SaveSave
SaveSave
Podcast: Play in new window | Download
Subscribe: Apple Podcasts | Google Podcasts | Email | RSS