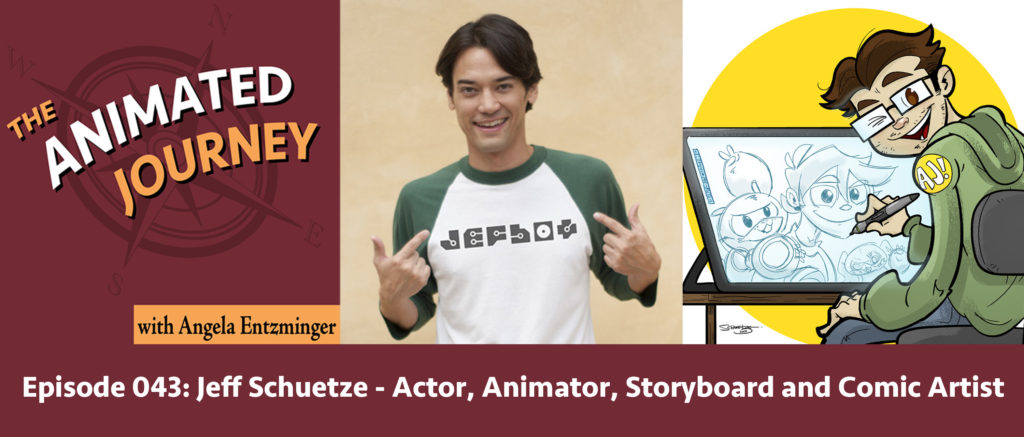 Actor, animator, storyboard and comic artist Jeff Schuetze knows a thing or two about working hard to perfecting your craft as an artist. His animation experience includes creating animated shorts for companies like College Humor, Rooster Teeth and Glamour, as well as creating the semi-autobiographical comic strip Jefbot. In today's animation podcast interview Jeff discusses his journey from aspiring paleontologist as a child to focusing on the world of animation in order to become a professional animator and storyboard artist!
Jeff Schuetze's Websites
Website
https://jefbot.carbonmade.com/
Comic
www.jefbot.com
Use code AJ to save 20% off on all jefbot merchandise!
Tumblr
http://jefbot.tumblr.com/
Facebook
@jeffschuetze
Instagram
@shootzee
Twitter
@jefbot
Los Angeles Art Events
MerMay Art Show 
May 19, 2017
http://www.theperkynerd.com/
Project Neverland Gallery Show
Thru June 11, 2017
http://centerstagegallery.com/event/opening-reception-project-neverland/
Truth Be Told Gallery Show
Thru June 2017
https://www.instagram.com/truthbetoldgallery/
The Podcast
Website
www.theanimatedjourney.com
Tumblr
www.theanimatedjourney.tumblr.com
Facebook
www.facebook.com/theanimatedjourney
Twitter
@animjourney
Instagram
@animjourney
The Host
Website
www.sketchysoul.com
Facebook
www.facebook.com/sketchysoul
Tumblr
www.sketchysoul.tumblr.com
Twitter
@SketchySoul
Instagram
@SketchySoul
Podcast: Play in new window | Download
Subscribe: Apple Podcasts | Google Podcasts | Email | RSS