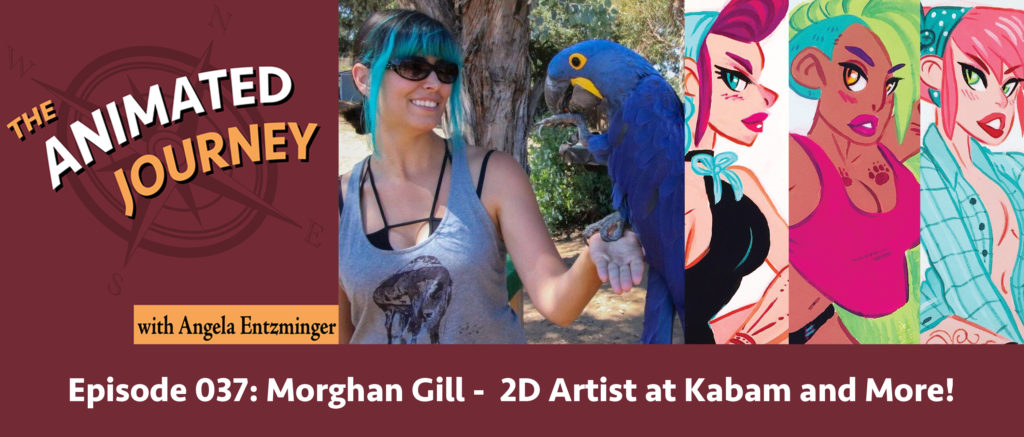 In today's episode artist and animator Morghan Gill shares how her love of animation inspired her to attend Laguna College of Art Design and pursue her dreams of becoming a professional artist. She discusses what it's like working for various studios, teaching at her alma mater, tabling at conventions and her successfully funded Kickstarter campaign for her latest sketchbook, Project Pink. It's a fantastic episode you won't want to miss, and make sure to sign up for her painting workshop at the Ground Zero Animation Expo in February!
Morghan Gill's Websites
Website
www.mogiarts.com
Instagram
@TeaTigerCafe
Twitter
@TeaTigerCafe
Tumblr
TeaTigerCafe.tumblr.com
YouTube Channel
Skydiamond7
Etsy Store
TeaTigerCafe
Los Angeles Area Events And More!
The 44th Annie Awards
http://annieawards.org
Fan*Alley 2017 Ground Zero Animation Expo
http://shopfanalley.com/2017-ground-zero-animation-expo
The Animation Network Mixer
http://www.theanimationnetwork.org/mixer
WonderCon
http://www.comic-con.org/wca
Nickelodeon Writing Fellowship
https://www.nickanimationstudio.com/writing-program
Nickelodeon Artist Program
https://www.nickanimationstudio.com/artist-program
The Show
Website
www.theanimatedjourney.com
Tumblr
www.theanimatedjourney.tumblr.com
Facebook
www.facebook.com/theanimatedjourney
Twitter
@animjourney
Instagram
@animjourney
The Host
Website
www.sketchysoul.com
Facebook
www.facebook.com/sketchysoul
Tumblr
www.sketchysoul.tumblr.com
Twitter
@SketchySoul
Instagram
@SketchySoul
Podcast: Play in new window | Download
Subscribe: Apple Podcasts | Google Podcasts | Email | RSS