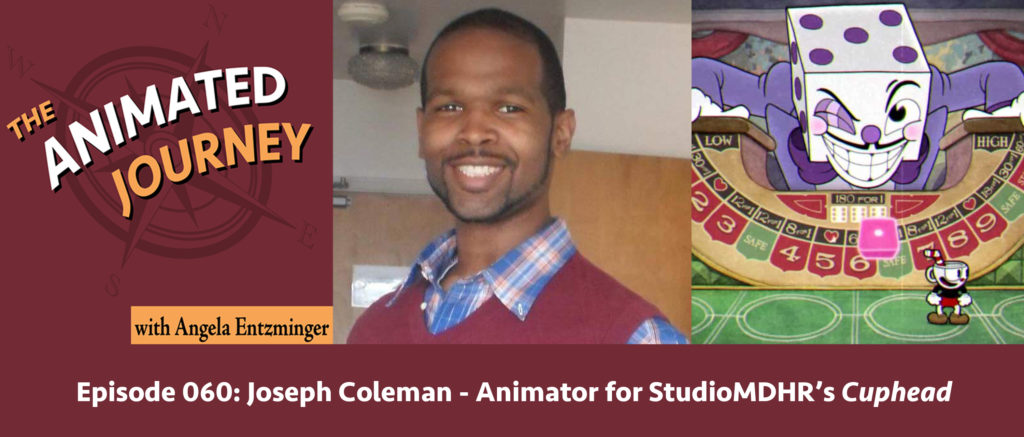 Episode 060 features the talented Joseph Coleman! Joseph spent his formative years skateboarding, drawing, playing video games and winning art contests in Macon, Mississippi. After attending undergrad at Memphis College of Art and grad school at Academy of Art University he worked on various freelance projects before landing a job on StudioMDHR's Cuphead. In today's interview Joseph discusses the importance of learning various skills, how to work as both an artist and a business person, drawing from your personal experience when creating your art and pursuing your passion in the face of life's obstacles.
Joseph Coleman's Websites
Vimeo
https://vimeo.com/user6504317
Twitter
@JosephColeman89
Southern California Events 
Convention season is over but it's never too late to stay up to date! Check out these Southern California conventions for your opportunity to register and exhibit your art in 2018.
Comic-Con International: San Diego
https://www.comic-con.org
Creative Talent Network Expo
www.ctnanimationexpo.com
DesignerCon
www.designercon.com
Fan*Alley Expo
www.gzaexpo.com
The Podcast
Website
www.theanimatedjourney.com
Tumblr
www.theanimatedjourney.tumblr.com
Facebook
www.facebook.com/theanimatedjourney
Twitter
@animjourney
Instagram
@animjourney
The Host – Angela Entzminger
Check out my comic for The Story Collider Podcast!
http://bit.ly/2ir8HTc
Check out my guest spot on Animation Station with Robbie and Tracy!
http://apple.co/1Th9CRV
Check out my two part interview on The Ink and Paint Girls Podcast!
http://bit.ly/2sJqw41
Website
www.sketchysoul.com
Tumblr
www.sketchysoul.tumblr.com
Twitter
@SketchySoul
Instagram
@SketchySoul
The Editor – Jeff Schuetze
Website
https://jefbot.carbonmade.com
Comic
http://jefbot.com
Tumblr
http://jefbot.tumblr.com
Twitter
@JefBot
Instagram
@Shootzee
Podcast: Play in new window | Download
Subscribe: Apple Podcasts | Google Podcasts | Email | RSS