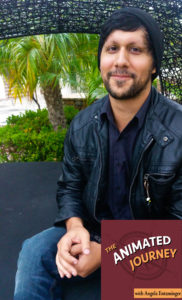 This week Todd and I enjoyed an excellent and fun conversation about his journey from student to professional at studios like Titmouse and now at Puny Entertainment where he works as a character designer on the new Amazon series Danger & Eggs. 
This is an exciting time for Todd — at the time of the recording he worked as a Clean-up Design Artist for Puny, and right before the release of the episode he was promoted to Character Designer, so way to go Todd!
In Part 1 of our interview Todd discusses growing up as a Disney kid in the O.C., attending Cal State Fullerton, and landing an internship which led to his first full-time gig. It's packed with heart and laughs  and Disney tangents so prepared to be inspired!
Todd's Websites
Portfolio
http://www.toddfavela.com/
Twitter
@toddfavela
Tumblr
http://tawd.tumblr.com/
Let's Draw With
@Letsdrawwith
The Show
Website
www.theanimatedjourney.com
Tumblr
www.theanimatedjourney.tumblr.com
Facebook
www.facebook.com/theanimatedjourney
Twitter
@animjourney
Instagram
@animjourney
The Host
Website
www.sketchysoul.com
Tumblr
www.sketchysoul.tumblr.com
Twitter
@SketchySoul
Instagram
@Sketchy_Soul
Podcast: Play in new window | Download
Subscribe: Apple Podcasts | Google Podcasts | Email | RSS