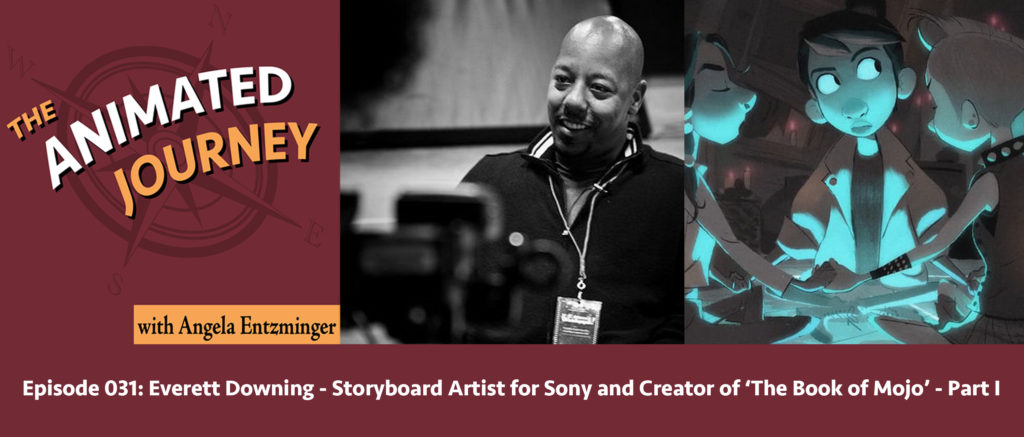 Animator and Storyboard Artist Everett Downing turned his love of comics, movies and storytelling into a career at some of the most well-known studios in the animation industry including Big Idea, Blue Sky, Pixar, DreamWorks and Sony Pictures Animation. In part one of our interview he discusses how seeing Toy Story in college changed his artistic trajectory and how it's important to pay attention to changes in the animation landscape. And if you're going to CTNX 2016 in Burbank Nov. 18th – 20th you can hear him speak about his work and career including his latest collaborative project The Book of Mojo!
Everett Downing's Websites
Website: http://www.edowning.com/
Facebook: https://www.facebook.com/edogdowning
Instagram: @Edogdowning
Twitter: @Mr_Scribbles
The Book of Mojo: http://www.bookofmojo.com/
See Everett Downing Live at CTNX in Burbank, CA!
Saturday Nov. 19, 2016
The Virtual Studio – 1:00 pm to 1:45 pm
Sunday Nov. 20, 2016
Cultural Representation in Film and Books – 12:45 pm to 1:30 pm
Book Signing – The Book of Mojo – 2:00 pm to 3:30pm
Check out the link for more information and to purchase tickets:
http://ctnanimationexpo.com
The Show
Website: www.theanimatedjourney.com
Facebook: www.facebook.com/theanimatedjourney
Tumblr: www.theanimatedjourney.tumblr.com
Twitter: @animjourney
Instagram: @animjourney
The Host
Website: www.sketchysoul.com
Facebook: www.facebook.com/sketchysoul
Tumblr: www.sketchysoul.tumblr.com
Twitter: @SketchySoul
Instagram: @SketchySoul
Podcast: Play in new window | Download
Subscribe: Apple Podcasts | Google Podcasts | Email | RSS