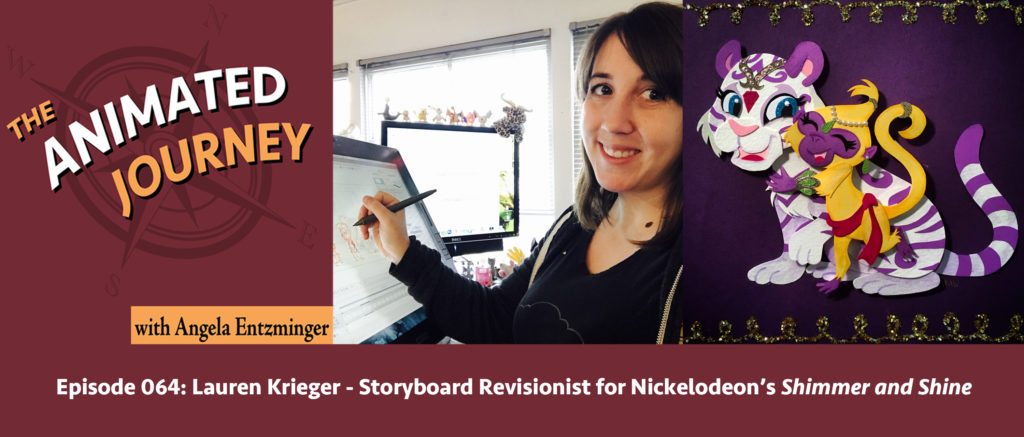 Storyboard revisionist for Nickelodeon's hit preschool show Shimmer and Shine Lauren Krieger is today's fabulous guest! In episode 64 Lauren shares her experience growing up in Minnesota, researching art schools to find the best fit for her future career path, and interning on numerous shows including China, IL; The Awesomes; and Wallykazam! before becoming a production assistant and then a storyboard revisionist. Along the way Lauren learned the importance of believing in yourself, continuing to improve your craft after graduation and discovering what aspect of animation best suits you. It's an amazing episode you won't want to miss!
Lauren Krieger's Websites
Website
http://www.laurenkrieger.com
LinkedIn
LaurenKreiger
Instagram
@LaurenKriegerArt
Twitter
@LaurenKrieger
Southern California Animation Events
Directing Animation and Storyboarding with Steve Ahn
California Theatre of the Performing Arts
Sat. Feb. 24, 2018 @ 1 p.m.
http://bit.ly/2o0lyi2
Gallery Nucleus
Art of Blank Panther Panel & Book Signing
Sat. Feb.  24, 2018 @ 1 p.m.
http://www.gallerynucleus.com/event/646
An Art Tribute to Disney Television Animation
Sat. Feb. 24, 2018 @ 7 p.m.
http://www.gallerynucleus.com/gallery/642/exhibition
CTN Road Trip
Sat. April 14, 2018 – Sun. April 15, 2018
10 a.m. – 5 p.m.
http://ctnroadtripburbank.com/
Fan*Alley Expo
Sat. June 9th, 2018 – Sun. June 10th, 2018
10 a.m. – 5 p.m.
www.gzaexpo.com
Support Friends of the Show!
Alyce Tzue's Didi in 3D Webcomic – support on Patreon
https://www.patreon.com/Didin3d
The Podcast
Website
www.theanimatedjourney.com
Tumblr
www.theanimatedjourney.tumblr.com
Facebook
www.facebook.com/theanimatedjourney
Twitter
@animjourney
Instagram
@animjourney
The Host – Angela Entzminger
Check out my comic for The Story Collider Podcast!
http://bit.ly/2ir8HTc
Check out my guest spot on Animation Station with Robbie and Tracy!
http://apple.co/1Th9CRV
Check out my two part interview on The Ink and Paint Girls Podcast!
http://bit.ly/2sJqw41
Website
www.sketchysoul.com
Tumblr
www.sketchysoul.tumblr.com
Twitter
@SketchySoul
Instagram
@SketchySoul
The Editor – Jeff Schuetze
Check out Jeff's interview on this podcast!
http://bit.ly/2BmrPK1
Website
https://jefbot.carbonmade.com
Comic
http://jefbot.com
Tumblr
http://jefbot.tumblr.com
Twitter
@JefBot
Instagram
@Shootzee
Podcast: Play in new window | Download
Subscribe: Apple Podcasts | Google Podcasts | Email | RSS